Something about VIable
"Unlocking the potential of your back office. collaboratively...together we are stronger!"
Our ethos is simple we recognise that every organisation is distinct but that through a common purpose in a collaboration we each gain mutual benefit. Introducing this paradigm shift in delivering services in partnership with our clients supersedes traditional working methods and organisational silos.
By working together in an open way and that people feel trusted; that is by listening and talking to each other we derive a spirit of collaboration that is so much better than individual working. It instills and equips so many valuable lessons from effectiveness, problem solving, innovation and life-long learning.
Working with each of our clients we derive benefits from each other's knowledge and expertise in ways that help us each to complement each other in relation to our core activities and to deliver on our corporate missions.
This therefore is the potential power and the spirit of collaboration - to recognise the core skills and abilities in your team that will achieve your mission and then to complement this with expertise to achieve the business objectives.
As economic times change and how governments do business change the trickle down affect must also change the way that organisations do business. Finding those collaborative partners that truly complement your mission will be the key to driving the business results and the sustainability of your organisation.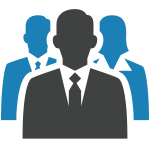 Ontime Everytime at Service
Available at Your Location
Online Booking Appointment